Metal door frame machine is a kind of roll forming machine which is developed to make various types metal door or window frames, reinforced, fire stop doors, etc by roll forming method. By this one metal door roll forming production line, you can finish punch holes, cutting end connection part and others. After roll forming by our production line, we could make very smooth and beautiful door frame without any scratch on surface. This metal door frame production line is composed by the following elements: De-coiler, feed & leveling device, punching machine with holes punching moulds, main roll forming machine, cutter, run-out table, etc. Those machines are customized according to the drawing profile of metal door frame.
Here is the picture for your reference: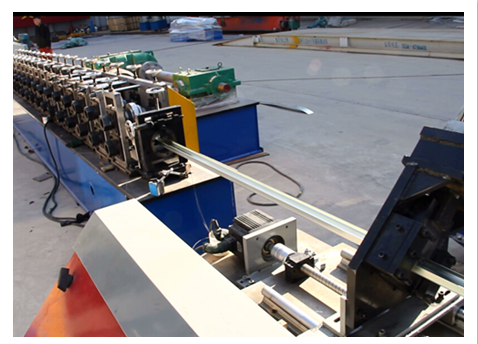 Why metal frame is popular those days?
For one thing, in the market now there are many kind of cladding on metal, the metal could be made like wood, stone and others. So you can make door frame as wood, as stone instead of metal but the cost will be lowered down greatly.

The advantages of hollow metal doors are Broad Commercial Applications, Fire Resistant, Insulated and Sound-Rated, Durability. Door Frames are widely applied in related structure industry because of its advantage compared with other materials.

Metal door frame is easy to change and easy to install. For modern society building, the metal door frame could be produced in batch in a few minutes. So the cost of them is low.
What Zhongtuo metal frame machine can do for you?
Zhongtuo metal door frame machine can help you make door frame in batch, the working speed could reach 50m/min.

Support many types of door frame. If the drawing profiles do not have too much difference, then they could be made by one machine.

Easy to operate. Zhongtuo metal frame machines are fully automatic, so you do not need to do anything, and then it will run and make production automatically.

For door frame, accuracy is quite important. Our machine takes good PLC and sensor, so it can make sure the accuracy within 1.5mm.
Main elements and specifications of metal frame roll forming machine:

      Metal Door  frame Roll Forming Machine
Punching machine with moulds Capacity
40T
Forming Roller Stations:
24 Stations
Forming Roller shaft:
65mm, 40Cr, quenching, treating
Forming rollers
GCr15, quenching, hardness HRC50-58º
Forming Speed:
12 meters / min
Main motor:
7.5kw
Feed material thickness:
(0.5-2.0) mm— L
Line speed
Adjusted by Frequency Inverter
Power:
380V/3ph/50Hz
Run-out table mode:
roller style
Line dimension:
15000—1000—1000mm